New Deal/WPA Art in White River Junction, Vermont
---
This Post Office mural was funded by the Section of Fine Arts under the Treasury Department and not the WPA.
White River Junction, VT Post Office
"Vermont Industries" - oil on canvas
by S. Douglass Crockwell (1937)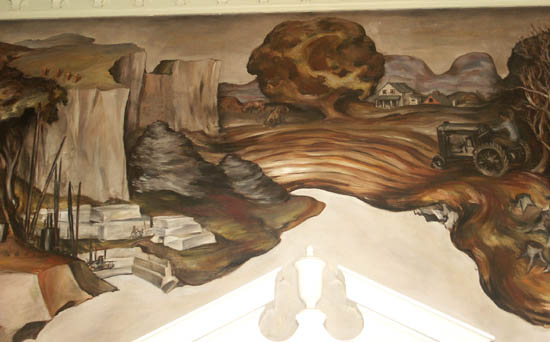 Images courtesy of the USPS
Photographs taken by William Kolodrubetz.
The White River Junction mural is still in the Post Office building which is curently being used as the office of the Visiting Nurses Assocation Hospice.
Reference Source:
Democratic Vistas: Post Offices and Public Art in the New Deal
by Marlene Park & Gerald E. Markowitz
Thanks to Jimmy Emerson who contributed the photographs!
Look for photographs of Post Office exteriors at the Post Mark Collectors Club (PMCC) Post Office photo page: http://www.postmarks.org/photos
---
© 2006 Nancy Lorance
All Rights Reserved.