New Deal/WPA Art in Wolfeboro, New Hampshire
---
This Post Office mural was funded by the Section of Fine Arts under the Treasury Department and not the WPA.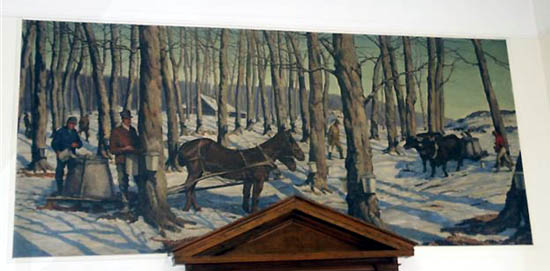 Wolfeboro, NH Post Office
"New Hampshire Sugar Camp" - oil on canvas
by Andrew Winter (1938)
Image courtesy of the USPS
Photograph taken by William Kolodrubetz.
Reference Source:
Democratic Vistas: Post Offices and Public Art in the New Deal
by Marlene Park & Gerald E. Markowitz
Thanks to Jimmy Emerson who contributed the photograph!
Look for photographs of Post Office exteriors at the Post Mark Collectors Club (PMCC) Post Office photo page: http://www.postmarks.org/photos
---
New Hampshire
Home
E-mail Nancy
© 2006 Nancy Lorance
All Rights Reserved.