Crystal Falls, Michigan
Post Office Mural
The following photo of the Crystal Falls, MI
Post Office mural by Allan Thomas
was taken by Paul T. Schroeder, Oshkosh, WI
and compliments of Paul E. Petosky, "Postmarks from the Past"
at: http://www.grandmaraismichigan.com/History/postmarks.htm
oil on canvas by Allan Thomas (1938) -
"Extending the Frontier in the Northwest Territory"
(mural installed
on May 23, 1938)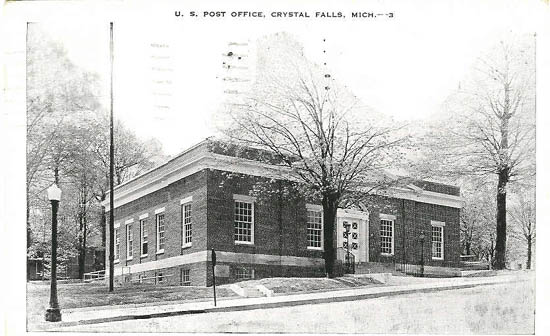 Crystal Falls, MI 49920 Post Office (Iron County), (circa 1940's). Was originally established in Marquette County on September 28, 1881 with Julia Runkel as its first postmaster. Changed to Iron County on April 3, 1885.
---
Photograph of mural taken August 2002 by Paul T. Schroeder
© Paul T. Schroeder2003
© 2003 Parva Productions Ltd. All Rights Reserved.