Carl Scheffler
April 8, 1883 - May 17,1962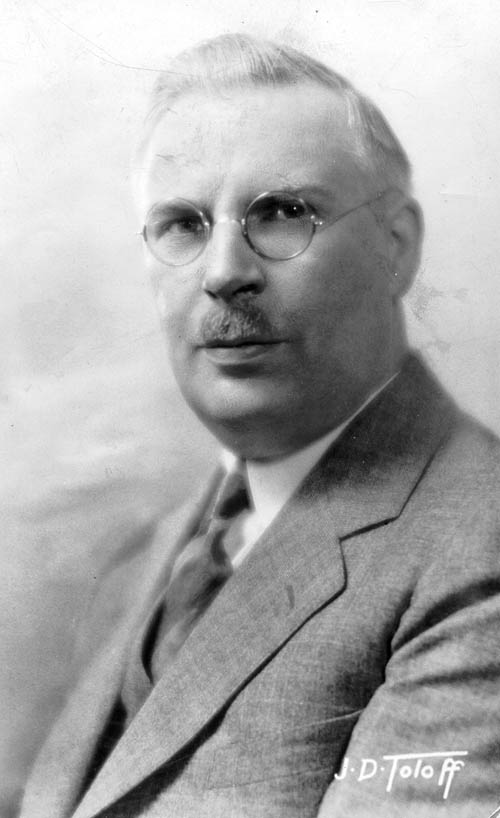 Carl G. Scheffler
(photograph courtesy of Harlan Scheffler)
"Carl Scheffler, 79, of 1821 Lincoln Street, an artist and art educator, died Thursday in the Broad Nursing Home. Mr. Scheffler had been in declining health for some time. Mr. Scheffler, who retired in 1948 after 18 years as an art supervisor in Evanston public schools, did the fairy-tale murals which decorate Haven Junior High School. His work also hangs in other Evanston schools. A native Chicagoan, he received his art education at the old Smith Academy and the Chicago Art Institute and in 1911 and 1912 studied at two academies in Europe. Returning to Chicago, he was a teacher for 14 years at the Chicago Academy of Fine Arts and then established the Evanston Academy of Fine Arts in the Carlson Building. He operated the academy for 18 years before becoming associated with the public schools. In 1948, he and his son, Harlan C., established an art studio in Chicago, specializing in scratchboard drawings for advertising agencies. As a young man, Mr. Scheffler traveled to the Holy Land, where he met and became friends with Abdu'i-Baha, son of the founder of the Baha'i faith. A member of the Evanston Assembly of that faith, Mr. Scheffler was elected to the national assembly's board for 10 years and also served for several years as its treasurer. He was in the forefront in the movement to build the national temple of the faith in Wilmette, and a drawing he did for the temple was featured on the cover of the Evanston Review. Surviving are his wife, May Thurn Scheffler, whom he married May 29, 1915, Harlan C. of Elmhurst, a daughter, Mrs. Betty de Araujo of Seattle, Washington, and four grandchildren. Hugh E. Chance, national executive secretary of the Baha'i faith, and Mrs. Eunice Braun, chairman of the Evanston Assembly, officiated at the service Saturday morning in the Hebblethwaite chapel. Burial was in Graceland Cemetery, Chicago."
From May 24, 1962 obituary, The Evanston Review
---
Home
Illinois Page
Evanston Page
Artist Biographies
E-mail Nancy
© 2007 Nancy Lorance
All Rights Reserved.